Hundreds of people have filed Zantac lawsuits in the past few months. Plaintiffs allege that the heartburn drug causes cancer and that manufacturers never warned consumers about the risks. At Drug Guardians, we're reviewing Zantac to help clients earn compensation for Zantac-related damages.
Lawsuits are in the early stages of litigation. These initial cases will serve as bellwethers for future legal action. If plaintiffs prevail at trial, drug manufacturers may decide to settle subsequent cases, which could be worth several billion dollars.
Zantac was one of the most popular medications in the United States in the 1980s. It wasn't until 2019 that the U.S. Food and Drug Administration raised concerns about the drug's safety. A Zantac recall in early 2020 has only put more scrutiny on manufacturers.
If you took Zantac and developed cancer, you may be eligible for financial compensation. Our personal injury lawyers are working with people across the country to file a class-action lawsuit. Learn more below or by calling us at (800) 430-2403.
Time is Running Out Qualify in 30 seconds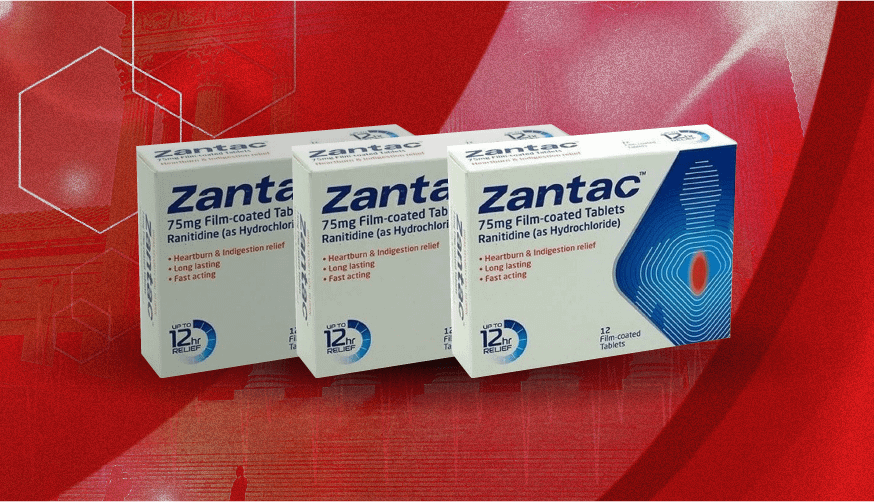 What is Zantac?
Zantac is the brand name for ranitidine, an over-the-counter and prescription drug. The medication hinders the body's ability to make stomach acid. Ranitidine products are used to treat Zollinger-Ellison syndrome, gastroesophageal reflux disease (GERD), peptic ulcer disease, and heartburn.
Zantac is an H2 histamine receptor antagonist, also known as an H2 blocker. The drug prevents the body from forming histamines that regulate our immune response and gut function. This interaction decreases the amount of acid a person can make in their stomach.
Zantac's competition with histamines limits how much hydrochloric acid your body produces. Zantac can suppress symptoms in a few hours while letting peptic ulcers heal. While Zantac has many adverse side effects, other H2 blockers are safe and effective.
As of 2017, Zantac was one of the most prescribed medications in the United States. More than 16 million people used Zantac (1). This figure does not include the millions of other people taking ranitidine medications outside the country.
Some side effects of Zantac include headaches, drowsiness, nausea, and skin rashes. More severe complications can involve a slow heart rate, irregular blood pressure, and stomach cancer. Some studies show a link between H2 blockers and certain types of colitis (2).
What is NDMA?
Multiple different organizations, including the U.S. Food and Drug Administration (FDA) and World Health Organization, found cancer-causing impurities in Zantac in 2019 (3) (4) (5). Zantac and other ranitidine-based products had high levels of N-nitrosodimethylamine (NDMA). The probable human carcinogen was present across multiple drug manufacturers and dosage amounts.
NDMA is an organic chemical that manufacturers may produce unintentionally during industrial processes. Ranitidine has a molecular structure that makes it susceptible to producing NDMA. The substance has both of the elements necessary to make NDMA: nitrite and dimethylamine.
Valisure Online Pharmacy conducted an independent study to determine how Zantac (ranitidine) forms NDMA (6). The company mixed ranitidine with gastric fluids and sodium nitrites to simulate conditions in the body. Researchers found that ranitidine created 304,500 ng of NDMA, which exceeds the FDA-approved limit of 96 ng of NDMA per day. Other ranitidine products, such as Cool Mint Zantac 75 and Zantac OTC, had NDMA concentrations greater than two million nanograms.
High levels of NDMA can cause dizziness, vomiting, jaundice, and abdominal pain. Long-term exposure to N-nitrosodimethylamine can cause cancer. While Zantac is a leading cause of NDMA-related illnesses, you can also find it in:
Foods with nitrosamines, such as smoked and cured meats
Contaminated drinking water
Foods with alkylamines
Malt beverages, such as whiskey and beer
Cosmetic products with NDMA, including some shampoos and household cleaners
Cigarette smoke or chewing tobacco
The NDMA in Zantac can harm numerous organs. According to the World Health Organization, it primarily affects the bladder and stomach, though the drug can also impact your kidneys, lungs, and pancreas. The Environmental Protection Agency declared NDMA a probable human carcinogen because it modifies people's DNA (7).
Complications Related to Zantac
Independent studies have helped establish a cancer link between Zantac (ranitidine) and harmful side effects. Researchers continue to find high levels of NDMA in patients' urine, connecting different symptoms and NDMA exposure. Some of the most common forms of cancer associated with Zantac include:
·    Stomach cancer – Researchers have linked stomach cancer with overexposure to NDMA in Zantac. The disease, also known as gastric cancer, takes several years to develop, with 27,600 diagnoses per year (8). The average life expectancy after diagnosis is five years.
·    Colorectal cancer – The disease starts as a polyp in the colon or rectum, with larger growths more likely to cause cancer. Polyps are more common in people that use heartburn medication, such as Zantac, to reduce stomach acid. In 2008, the World Health Organization said that human trials strongly suggest a link between NDMA and colorectal cancer.
·    Intestinal cancer – NDMA may increase users' likelihood of intestinal cancer. The growth starts in the small intestines before spreading to other organs. A person's life expectancy will vary depending on when they receive the diagnosis.
·    Esophageal cancer – Esophageal cancer can cause chest pain, indigestion, and heartburn. Doctors may recommend more Zantac or ranitidine to treat these symptoms. The disease is more common in men than in women.
·    Bladder cancer – Bladder cancer is one of the many diseases with a strong link to NDMA. Zantac users often have unsafe NDMA levels in their urine after taking the prescription. Some of the symptoms include difficulty urinating and back pain.
·    Liver cancer – Zantac and ranitidine can increase a person's risk for liver cancer. The disease causes abdominal pain, muscle weakness, and swelling. NDMA can cause serious complications in the liver for both humans and animals.
·    Pancreatic cancer – Many people die of pancreatic cancer because it's hard to detect. Late diagnoses make it challenging for doctors to treat the disease adequately. Studies suggest NDMA exposure plays a central role in initiating abnormal cell growth (9).
·    Breast cancer – Researchers know that NDMA can increase the chances of ductal carcinoma in situ (DCIS) (10). The non-invasive cancer causes abnormal cell growth in the milk duct. According to Cancer.org, there were more than 275,000 new cases last year (11).
·    Throat and nasal cancer – These types of cancer are more common in people with gastroesophageal reflux disease (GERD). Symptoms include sore throats, coughing, and altered voices. Doctors may prescribe Zantac or ranitidine medications to people with GERD.
·    Prostate cancer – A man in New Hampshire blames Zantac for his prostate cancer diagnosis (12). He took Zantac for more than seven years before developing symptoms. The lawsuit is still pending litigation.
The cancer-causing chemical in Zantac can methylate DNA. The process involves adding methyl groups to our genetic material. While DNA methylation does occur naturally to limit gene transcription, it can irreversibly alter a person's genome if left unregulated.
If you or a family member has been diagnosed with cancer after taking Zantac or ranitidine, contact an attorney at Drug Guardians. Our law firm will work with you to establish a connection between your cancer and the drug. We can also assist you in joining the pending Zantac class-action lawsuit.
Zantac Recall
The FDA asked all manufacturers to recall all over the counter and prescription medications with ranitidine (Zantac) on April 1, 2020 (13). The agency recommends that people stop taking ranitidine if they have an active prescription. Make sure to talk to a doctor about finding an alternative for your heartburn medication.
The FDA found unacceptably high NDMA levels when companies stored ranitidine above room temperature. The discovery came thanks to third-party investigations about the drug's health risks. FDA reviewers might have acted faster if they'd had more information about NDMA and its association with Zantac.
Zantac Manufacturers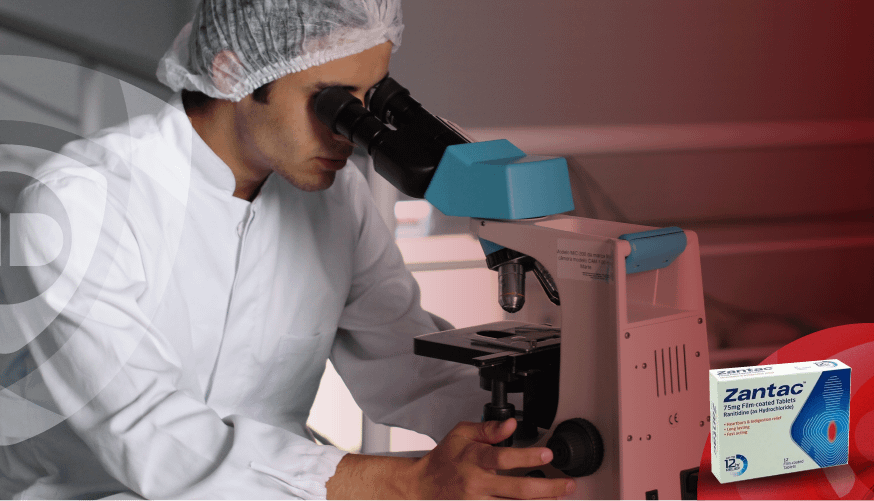 GlaxoSmithKline (GSK) was the first company to create prescription Zantac. The FDA approved it in 1983, and it became generic the following year. At least ten companies have made prescription ranitidine.
Ranitidine products have evolved over the years, with Pfizer creating over-the-counter ranitidine in 2004. Two years later, Boehringer Ingelheim bought the rights before selling them to Sanofi US Services Inc., purchased in 2017. More than a dozen companies have had to recall products with ranitidine, including
American Health Packaging
Amneal Pharmaceuticals
Apotex
Appco Pharma
Aurobindo Pharma USA
Denton Pharma (dba Northwind Pharmaceuticals)
Dr. Reddy's Laboratories
Glenmark Pharmaceutical
GSMS
Lannett Company
Mylan
Novitium Pharma
Perrigo
Precision Dose
Sandoz
Sanofi US Services
Ranitidine comes in all shapes and sizes. People can use the heartburn medication as a syrup, pill, or tablet. Dosage ranges from 75 mg to 300 mg.
Zantac Products and Generic Medication with Ranitidine
While many lawsuits target Zantac, you can still file a claim if you used ranitidine and suffered losses. The generic product has many of the same alleged cancer-causing effects as Zantac. Some of the most popular medications with ranitidine include:
Wal-Zan 75
Wal-Zan 150
Zantac 75 Tablets
Zantac 150 Tablets
Zantac 150 Maximum Strength
Zantac 150 Maximum Strength Cool Mint
While ranitidine is an H2 blocker, it doesn't mean that other H2 blockers are dangerous. The FDA has tested other prescription medications, such as Nexium, Prevacid, Prilosec, Pepcid, and Tagamet, without finding significant risks. The agency recommends talking with your doctor if you want to change your medications.
How to Qualify for a Zantac Lawsuit
Zantac Use
You need to prove three things to join the Zantac class-action suit, starting with Zantac use. Note that you don't have to use the brand-name drug exclusively. You can qualify if you have high levels of NDMA due to ranitidine as well.
You'll need proof of your drug prescriptions when you meet with our lawyers. If you took over-the-counter Zantac, get a receipt or doctor's notice. You can also contact your doctor's office for a list of past prescriptions if you don't have one on hand.
Cancer Diagnosis
You may qualify for a Zantac lawsuit if you've been diagnosed with cancer. NDMA-laden drugs have an elevated cancer risk, in part, because drug companies failed to warn users about the side effects. Bladder and stomach cancer are two of the most common diagnoses associated with NDMA exposure.
Connection Between the Diagnosis and Zantac
Taking more doses of Zantac increases your cancer risk. The longer you use Zantac (ranitidine), the more likely you are to be diagnosed with cancer. Some lawyers say claimants should have at least a year of Zantac use to establish a connection between the diagnosis and the drug.
Reasons for the Zantac Lawsuit in 2021
Lawyers consistently make two claims about Zantac. First, it had a defective design. Second, companies failed to warn consumers about the risks.
Defective design means Zantac had a foreseeable risk but that manufacturers, like Boehringer Ingelheim, didn't correct it. When clients took Zantac as instructed, they took on greater risk for bladder cancer and other diseases.
It's possible that Zantac itself is safe but became tainted during production. The contamination may have caused ill effects. The FDA says that ranitidine has unacceptable levels of N-nitrosodimethylamine (NDMA), though it's unclear whether the NDMA forms inside or outside the body.
Lawyers also argue that companies didn't warn clients about the risks. The FDA requires all medications to list potential complications. FDA-approved labels allow people to make educated decisions about what they put in their bodies.
Zantac labels never included warnings about cancer risk. Companies failed to mention that the heartburn drug also had carcinogenic risks. Lawyers argue that manufacturers are responsible for these risks, though "failure to warn" laws vary from state to state.
Types of Compensation from Zantac Class Actions
Economic Damages
Personal injury cases often involve economic damages, which apply to measurable losses. Economic damages, also known as specific damages, help compensate plaintiffs if they injure their body or property. Some examples include:
Lost wages
Medical bills
Lost business opportunities
Property damage
Medical bills make a substantial part of Zantac cases. Complications from the heartburn medication can saddle people with hospital bills, cancer treatment, and prescription drugs. If you go to therapy because of the emotional or mental issues related to taking Zantac, you may add it to your economic damages.
Add your losses to calculate the total economic damage. That includes hospital invoices, pharmacy receipts, and other bills. As long as the damage is measurable and relates to the Zantac class-action lawsuit, you may add it to your list.
Some states do not offer economic damages in personal injury cases. These jurisdictions use comparative negligence or contributory negligence to determine the amount of blame for each party. Talk with one of our Zantac lawsuit attorneys to learn more about recovering economic damages.
Non-Economic Damages
Non-economic damages, also known as general damages, constitute immeasurable losses. Lawyers cannot calculate them using bills and receipts. Some common examples include:
The cancer itself
Pain and suffering
Disability or disfigurement
Loss of consortium
Losses related to reputation
Non-economic damages are inherently subjective, so compensation varies from case to case. Jurisdictions in the United States use different tools to calculate non-economic damage. For instance, some places pay plaintiffs a per diem until they recover from their injuries.
If you're diagnosed with cancer after taking Zantac, you'd likely benefit from formula-based compensation. The system correlates the non-economic damages with the economic ones. For instance, the court may measure pain and suffering on a scale from one to five.
Let's say you score the maximum amount on that scale. If you endured $50,000 worth of economic damages, the court would award $250,000 in compensation. Most non-economic damages do not exceed ten times the economic damages.
How the Food and Drug Administration Regulates Prescription Drugs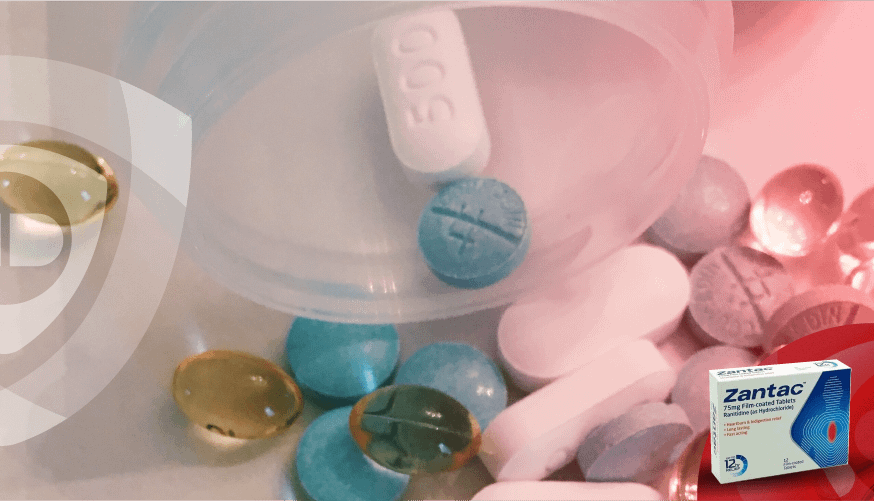 Drug companies releasing new products must test them first. The Food and Drug Administration (FDA) requires trials to prove that new drugs are safe and effective. A group from the FDA's Center for Drug Evaluation and Research (CDER) reviews the drug company's claims and labels.
CDER is an independent organization. It provides unbiased analysis to evaluate the pros and cons of specific medications. While the CDER doesn't test drugs itself, it does look at any given drug's quality and efficacy before approving it for the market.
Drug manufacturers must show that the medication works outside the lab. A company or sponsor will use animal and human trial cases to establish the drug's safety. Note that FDA oversight only applies to drugs in the United States. Other countries have agencies to approve or reject a drug.
Meaning of FDA Approval
FDA approval means the CDER reviewed a drug's data and effects and concluded that the benefits outweighed the drawbacks. Drug makers can only release their products if they have FDA approval. This evaluation happens in a three-stage framework.
FDA reviewers start by analyzing the target condition and available treatments. They check whether there is another prescription drug available that offers similar benefits. For instance, a drug that treats breast cancers and has no alternative treatments has a strong chance of approval.
FDA reviewers also assess the benefits and drawbacks in the clinical data. The agency verifies that the drug company ran well-designed trials and that the results are sound. If a disease is rare, the FDA may permit the manufacturer to run a single test instead of multiple.
The final step involves evaluating the medication's risks. All drugs have some risk, so the FDA reviews and approves the labels before release. In the case of Zantac, labels failed to warn people about the cancer-causing risks.
Why Did the Food and Drug Administration Approve Zantac?
The FDA initially approved Zantac in 1983. It wasn't until 2019 that the agency considered it a cancer risk. Those three and a half decades saw Zantac became one of the best-selling drugs of all time, with companies like GSK earning $1 billion in sales in Dec. 1986 alone (14).
The question is, how did Zantac make it through the FDA approval process if the drug could cause cancer? The problem doesn't lie with the FDA. The agency went through the proper initial testing to see whether the drug was faulty.
It wasn't until outside labs tested and found high levels of the cancer-causing chemical N-nitrosodimethylamine (NDMA) that the FDA began its investigation. That's because the FDA doesn't actively monitor medications after they hit the market. A third party has to file a complaint for the FDA to reevaluate a drug.
Follow-up tests on ranitidine-based products found the drug increased NDMA levels if stored at a high room temperature. The FDA found that older bottles of ranitidine contained elevated levels of NDMA. A few companies voluntarily recalled the drug the following January.
Further testing confirmed problematic amounts of N-nitrosodimethylamine. A 2011 study showed that ranitidine increases the levels of NDMA in drinking water during chloramine disinfection (15). The results contradicted previous scientific literature about ranitidine's NDMA production.
The scientific journal Carcinogenesis reached a similar conclusion five years later. A 2016 peer-reviewed study discovered that users had 400 times the acceptable levels of NDMA in their system (16). Researchers were able to see changes within a day of someone taking ranitidine.
Questions to Ask Your Lawyer
Is the Zantac lawsuit real?
Yes. Many people have already filed claims that Zantac (ranitidine) caused cancer and other losses. These trials are in the early stages, and law firms are still allowing people to join a class-action lawsuit. Give us a call at (800) 430-2403 to learn more about Zantac lawsuits.
How much money can I get from Zantac cancer lawsuits?
At Drug Guardians, we cannot guarantee compensation. If our lawyers prevail, plaintiffs can expect money to cover some or all of their economic and non-economic damages. The exact Zantac lawsuit settlement amounts depend on your specific symptoms and their severity.
Cases at the top of the Zantac class-action lawsuit can expect approximately $500,000. Secondary cases will be worth $250,000, while the lowest ones should pay $100,000 or less. These figures may rise or fall depending on the final number of plaintiffs in the lawsuit.
How long does it take to receive compensation from the Zantac lawsuit?
Global settlements take a long time. If the class-action lawsuit goes to trial, it will take longer. It's unlikely that our lawyers would settle with ranitidine manufacturers before the end of 2022.
Massive tort law cases involve consolidating thousands of plaintiffs into one lawsuit. Law firms are working to streamline evidence in the discovery phase in Florida under Judge Robin Rosenberg. Hundreds of new plaintiffs are coming to the case every month, which improves the chances of winning but lengthens the overall process.
How much does Zantac multidistrict litigation cost?
Many law firms offer their services to clients via a contingency fee, meaning the lawyers only receive compensation if they win. This arrangement helps people avoid out-of-pocket costs. Most personal injury lawyers take 33.3% if there's a settlement and 40% if the case goes to trial.
Have any Zantac lawsuits settled?
No. The litigation began at the end of 2019 and has slowed since the coronavirus pandemic. There likely won't be any settlements until some Zantac cancer lawsuits go to trial. If the plaintiffs in these bellwether cases favor the plaintiffs, manufacturers are more likely to settle out of court.
How does a class-action lawsuit work?
Class-action lawsuits allow a group of people to collectively file claims against another party. These plaintiffs must have suffered damages from a similar product, service, or event. In this case, the NDMA linked to ranitidine may have contributed to positive cancer diagnoses for Zantac users.
The lawsuit has a person or person's name at the top of the claim. These lead plaintiffs are the ones responsible for filing the suit. Hundreds or thousands of other people, known as class members, join the lawsuit and earn compensation if the case reaches a favorable settlement or verdict.
Class-action lawsuits occur primarily in the United States. There are some examples of it in Canada and Europe. Changes in civil law abroad have made it easier for law firms to bring claims on behalf of many individuals.
What are the pros of class-action lawsuits?
A class-action Zantac lawsuit allows plaintiffs to combine forces. It's significantly harder for Big Pharma to dismiss claims from hundreds of people working together. While you can win by filing individual lawsuits, these cases often take a significant financial and emotional toll on those involved.
A single lawsuit also allows a judge to rule unilaterally in all cases. The judge's decision will apply to every plaintiff in the Zantac cancer lawsuit. This legal ability speeds up the pretrial process.
All parties benefit from the improved speed. Whether the Zantac cancer lawsuit goes to court or settles outside of it, lawyers will have an easier time negotiating a single deal instead of hundreds. The resulting speed helps victims get compensation quicker than expected.
What are the cons of class-action lawsuits?
A class-action Zantac cancer lawsuit offers no personalization or intimacy. You may live in New Hampshire, but the court case will happen in Florida. The size and scope can make some plaintiffs feel powerless about the outcome.
You also won't have the same amount of bargaining power that comes with individual ranitidine lawsuits. The process involves trading some of your voice for an improved chance of compensation. Note that a class-action lawsuit allows you to opt out, while multidistrict litigation does not.
Contact Us Today
If you or a loved one has used Zantac or medication with ranitidine, contact Drug Guardians immediately. Our lawyers will review your case and provide legal advice. We'll help you determine whether joining the class-action Zantac cancer lawsuit is right for you.
Schedule your free consultation today. You can get in touch with us at (800) 430-2403 or by filling out the contact form on our website. Discover the difference our law firm can make for you.
Litigation Updates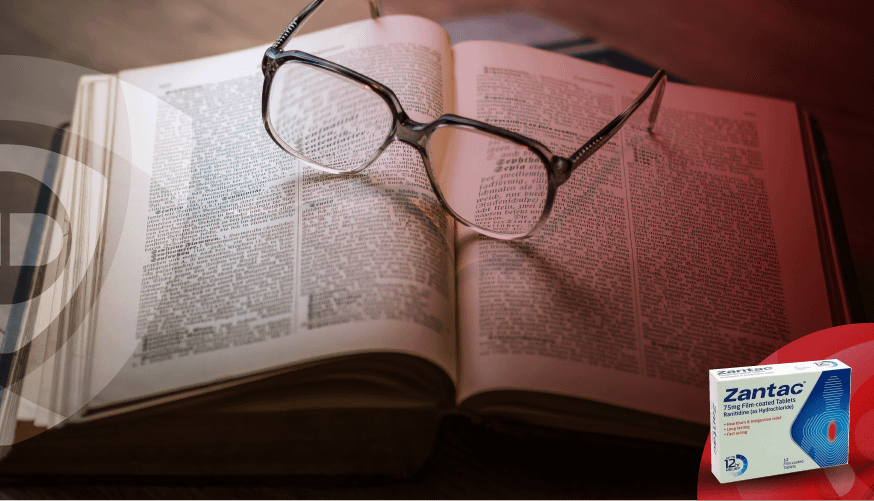 200+ Plaintiffs File Lawsuit in Florida
September 16, 2020 – More than 200 plaintiffs filed a class-action lawsuit in the U.S. District Court for the Southern District of Florida (17). The plaintiffs filed it on behalf of anyone who purchased or used Zantac in the United States. The suit claims that Zantac producers failed to warn customers about the heartburn drug's risks.
The Zantac cancer lawsuit claims that N-nitrosodimethylamine (NDMA) was above the FDA-approved levels. According to the court documents, anyone who took Zantac between 1983 and April 2020 had an elevated risk of bladder cancer, esophageal cancer, and other complications due to NDMA. Plaintiffs are seeking compensatory and punitive damages to cover medical treatments and new medications.
Department of Justice Investigates Claims About Zantac
August 1, 2020 – The Department of Justice and the U.S. Attorney's Office are investigating claims that Zantac causes cancer (18). The agencies are looking into accusations that drug makers did not follow the False Claims Act. The lawsuits say manufacturers knew about the cancer-causing levels of NDMA in Zantac and ranitidine products.
Hector Balderas, the New Mexico Attorney General, filed a suit the previous month, claiming that several Zantac (ranitidine) producers violated regulatory laws, including the Unfair Practices Act and the False Advertising Act. Lawyers across the country are looking to consolidate the cases into one class-action lawsuit.
Plaintiffs Seek to Consolidate Lawsuits in Florida
July 5, 2020 – Plaintiffs have consolidated two separate lawsuits related to Zantac in Florida. The plaintiffs, one from Florida and the other from Pennsylvania, claim they took Zantac, causing cancer in them or a descendant. The Pennsylvania estate is filing on behalf of a deceased family member who died due to pancreatic cancer in 2019 (19).
The Florida woman says she took over-the-counter Zantac for more than 20 years. She used 75 mg and 150 mg doses to reduce stomach acid following an endoscopy. The woman ingested Zantac as directed but would have stopped taking Zantac if she had known the risks.
Doctors diagnosed the Florida woman with stage IIIC colon cancer at the beginning of 2018. She underwent surgery to remove parts of her colon, followed by chemotherapy. She's seeking compensatory and punitive damages.
40 Plaintiffs Seek to Consolidate Lawsuits in California
June 9, 2020 – Lawyers representing more than 40 people want to consolidate their lawsuits in California (20). The lawsuits claim Pfizer, Sanofi US Services, and other drug manufacturers knew about the carcinogenic risks associated with Zantac and did not warn users. The consolidation would unite cases from all 40 plaintiffs in the pretrial and trial phases while working with multidistrict litigation in Florida.
One plaintiff took Zantac while pregnant. She alleges that the NDMA in Zantac caused her 8-year son to develop testicular cancer. Other cases claim Zantac caused kidney, thyroid, and bladder cancer.
Drug makers have historically denied claims that Zantac causes cancer or have adverse health risks. GlaxoSmithKline was the first company to produce Zantac and consistently discredited studies linking its drug to cancer. GlaxoSmithKline's spokesperson declined to comment about the existing litigation but said that the company takes the issues seriously and with priority.
(1) Sean P. Kane, P. (2017). Ranitidine. Retrieved November 6, 2020, from https://clincalc.com/DrugStats/Drugs/Ranitidine
(2) Tleyjeh, I., Abdulhak, A., Riaz, M., Garbati, M., Al-Tannir, M., Alasmari, F., . . . Baddour, L. (2013). The association between histamine 2 receptor antagonist use and Clostridium difficile infection: A systematic review and meta-analysis. Retrieved November 6, 2020, from https://www.ncbi.nlm.nih.gov/pmc/articles/PMC3587620/
(3) Government of Canada. (2019). Health Canada assessing NDMA in ranitidine. Retrieved November 6, 2020, from https://healthycanadians.gc.ca/recall-alert-rappel-avis/hc-sc/2019/70989a-eng.php
(4) Commissioner, O. (2019). Statement alerting patients and health care professionals of NDMA found in samples of ranitidine. Retrieved November 6, 2020, from https://www.fda.gov/news-events/press-announcements/statement-alerting-patients-and-health-care-professionals-ndma-found-samples-ranitidine
(5) Czarska-Thorley, D. (2020). EMA to provide guidance on avoiding nitrosamines in human medicines. Retrieved November 6, 2020, from https://www.ema.europa.eu/en/news/ema-provide-guidance-avoiding-nitrosamines-human-medicines
(6) Valisure. (2019). Valisure Citizen Petition on Ranitidine. Retrieved November 6, 2020, from https://www.valisure.com/wp-content/uploads/Valisure-Ranitidine-FDA-Citizen-Petition-v4.12.pdf
(7) EPA. (2014). Technical Fact Sheet – N-Nitroso-dimethylamine (NDMA). Retrieved November 6, 2020, from https://www.epa.gov/sites/production/files/2014-03/documents/ffrrofactsheet_contaminant_ndma_january2014_final.pdf
(8) Stomach Cancer: Statistics. (2020). Retrieved November 6, 2020, from https://www.cancer.net/cancer-types/stomach-cancer/statistics
(9) Risch, H. A. (2003, July 02). Etiology of Pancreatic Cancer, With a Hypothesis Concerning the Role of N-Nitroso Compounds and Excess Gastric Acidity. Retrieved November 6, 2020, from https://academic.oup.com/jnci/article/95/13/948/2520313
(10) Zaidi, S., Laidlaw, I., Howell, A., Potten, C., Cooper, D., & O'Connor, P. (1992). Normal human breast xenografts activate N-nitrosodimethylamine: Identification of potential target cells for an environmental nitrosamine. Retrieved November 6, 2020, from https://www.ncbi.nlm.nih.gov/pmc/articles/PMC1977899/
(11) How Common Is Breast Cancer?: Breast Cancer Statistics. (n.d.). Retrieved November 6, 2020, from https://www.cancer.org/cancer/breast-cancer/about/how-common-is-breast-cancer.html
(12) Luhana, R. (2020). N.H. Man Diagnosed with Prostate Cancer After 7 Years of Zantac Use. Retrieved November 6, 2020, from https://newyork.legalexaminer.com/legal/n-h-man-diagnosed-with-prostate-cancer-after-7-years-of-zantac-use/
(13) FDA. (2020). FDA Requests Removal of All Ranitidine Products (Zantac) from the Market. Retrieved November 6, 2020, from https://www.fda.gov/news-events/press-announcements/fda-requests-removal-all-ranitidine-products-zantac-market
(14) MICHAEL LANE v. BOEHRINGER INGELHEIM PHARMACEUTICALS, INC., SANOFI US SERVICES INC., CHATTEM, INC., PFIZER, INC., AND GLAXOSMITHKLINE, LLC. (2020). Retrieved November 6, 2020, from https://aboutlawsuits-wpengine.netdna-ssl.com/wp-content/uploads/2020-2-28-zantac-lane-complaint.pdf
(15) Kim, H., & Han, K. (2011). Ingestion exposure to nitrosamines in chlorinated drinking water. Retrieved November 6, 2020, from https://www.ncbi.nlm.nih.gov/pmc/articles/PMC3214982/
(16) Adamson, R., & Chabner, B. (2020). The Finding of N-Nitrosodimethylamine in Common Medicines. Retrieved November 6, 2020, from https://www.ncbi.nlm.nih.gov/pmc/articles/PMC7288647/
(17) Luhana, R. (2020). New Class Action Zantac Lawsuit Includes Claims from Over 200 Zantac Users. Retrieved November 6, 2020, from https://newyork.legalexaminer.com/legal/new-class-action-zantac-lawsuit-includes-claims-from-over-200-zantac-users/
(18) Sanofi And GSK Face DOJ Probes Over Zantac Cancer Risk. (2020). Retrieved November 6, 2020, from https://www.law360.com/articles/1297127/sanofi-and-gsk-face-doj-probes-over-zantac-cancer-risk
(19) Luhana, R. (2020). Plaintiffs File New Zantac Lawsuits, Claim Drug Caused Colon, Pancreatic Cancer. Retrieved November 6, 2020, from https://newyork.legalexaminer.com/health/plaintiffs-file-new-zantac-lawsuits-claim-drug-caused-colon-pancreatic-cancer/
(20) FDA. (2020). FDA Requests Removal of All Ranitidine Products (Zantac) from the Market. Retrieved November 6, 2020, from https://www.fda.gov/news-events/press-announcements/fda-requests-removal-all-ranitidine-products-zantac-market