Prolonged Elmiron Use Could Cause Eye Problems, Study Reveals
In 1996, the U.S. Food and Drug Administration (FDA) approved Elmiron®, or pentosan polysulfate sodium, as an oral prescription drug to treat interstitial cystitis (IC). IC is a chronic condition associated with bladder pain and pressure, pelvic pain, and urinary frequency. To date, Elmiron is the only FDA-approved oral medication for treating IC-related bladder inflammation pain or discomfort. 
Once patients use Elmiron, they can expect a gradual improvement in symptoms, which often takes three to six months. However, the past few years have seen case reports of Elmiron having detrimental effects on health, such as retinal pigmentary changes and pigmentary maculopathy that may lead to vision loss. 
Elmiron Causes Macular Disorder
Studies show that prolonged use of Elmiron can lead to severe and potentially irreversible vision problems or blindness in some patients. According to the studies, patients who have used the drug for at least three years are at higher risk of developing vision problems. Researchers at Emory University first discovered the potential relationship between Elmiron and pigmentary maculopathy in 2018 when six patients who developed the condition didn't have a history of retinal problems. 
The common link between the six patients was long-term Elmiron use. California-based Kaiser Permanente did a follow-up study in 2019. The study involved 91 patients who were taking 5,000 Elmiron pills, on average, over 15 years. 
The study found 22 out of the 91 patients had considerable damage to their retina attributed to drug toxicity. The greater the amount of Elmiron consumed, the greater the toxicity rate was. Patients taking 500 to 1,000 grams of Elmiron had an 11% toxicity rate, while those taking at least 1,500 grams of the drug had a 42% toxicity rate. 
According to the research findings, patients suffering from Elmiron-related maculopathy could experience symptoms such as:
Difficulty reading

Blurred vision

Slow adjustment to low-light environments

Difficulty seeing close-up things

Areas of vision loss in the field of vision
Researchers also point out that Elmiron's side effects may progress even after patients stop using the drug. According to a 2019 Harvard study, Elmiron-related maculopathy can get worse over time with little chance of being reversible. 
A retrospective, matched-cohort study revealed that patients exposed to the drug had an increased risk of being diagnosed with a new macular disorder at seven years. Patients already suffering from retinal pigment changes from other causes may have difficulty identifying Elmiron-induced retinal pigment change if they experience it in the future. Patients should consult their doctors if they notice any unusual changes in their vision. 
Elmiron Causes Increased Bleeding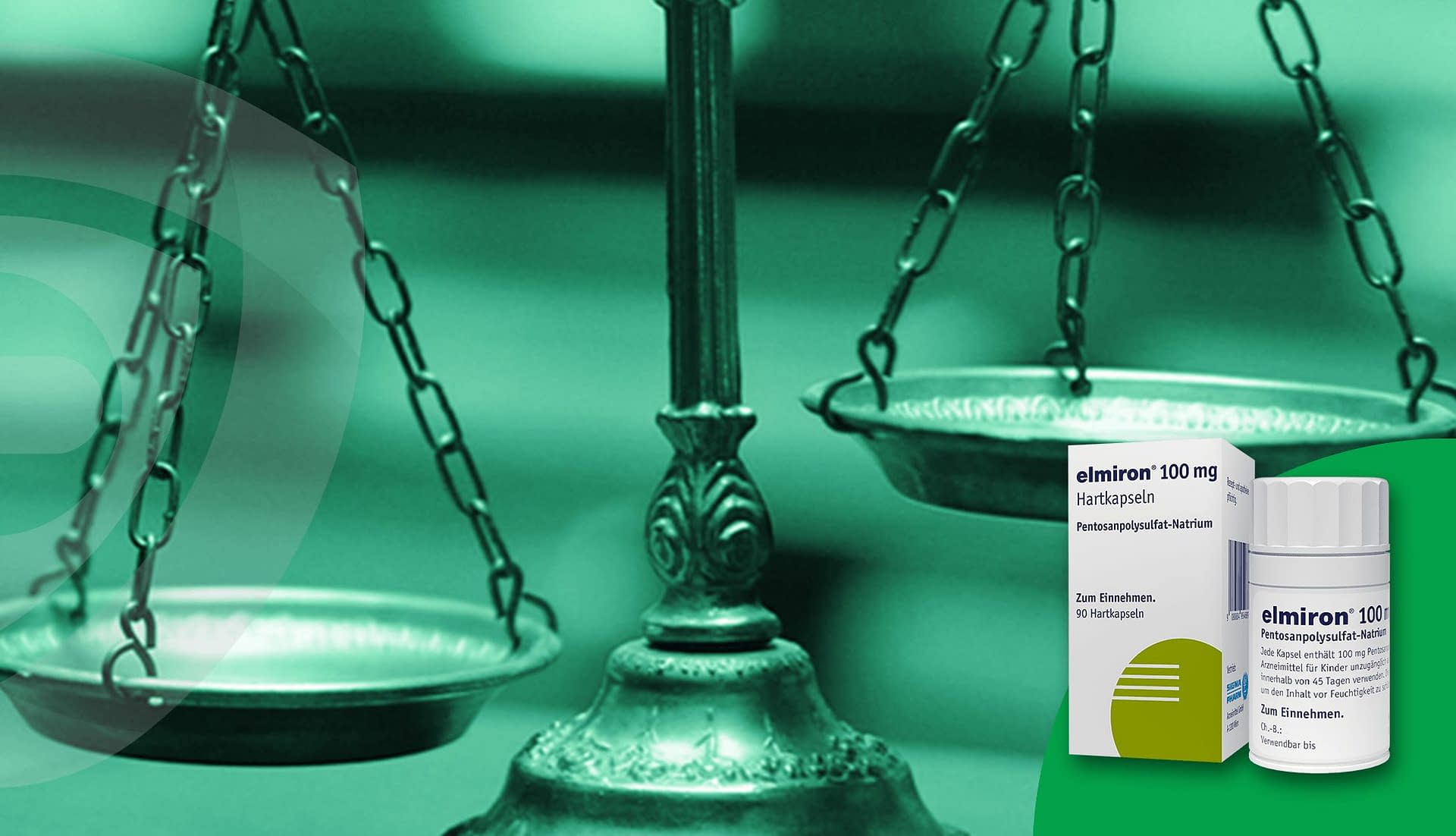 Elmiron is a weak anticoagulant, meaning it works as a blood thinner, making it difficult for blood to clot. As such, the medication may lead to increased bleeding for patients using medications that increase bleeding. Such medications include heparin, streptokinase, coumarin anticoagulants, high-dose aspirin, and nonsteroidal anti-inflammatory drugs. 
These patients should undergo evaluation for hemorrhage before they start using Elmiron. Patients with medical conditions such as hemophilia, bleeding ulcers, polyps, diverticula, thrombocytopenia, or aneurysms are also susceptible to bleeding. They should undergo a comprehensive evaluation before commencing Elmiron treatment. 
Patients with increased bleeding risk should inform their doctor before starting Elmiron medication to avoid adverse side effects. 
To help mitigate this medication's detrimental effects, the FDA issued a directive in June 2020 to change the Elmiron label and include warnings about retinal pigmentary changes in the "Warnings and Precautions" and "Adverse Reactions" sections of the Elmiron drug label. 
Patients are also advised to undergo regular eye checkups, including retinal examinations, throughout their Elmiron treatment. The routine examination will help in the early detection of retinal changes. If damage is detected early, stopping the medication may help mitigate the damage. 
If detected at an advanced stage, toxicity may behave like late-stage dry atrophic age-related macular degeneration, leading to irreversible vision loss. When patients start Elmiron treatment, their doctor will advise them on when to begin their eye check-ups and subsequent follow-up exams.
Besides the side effects that occur due to long-term exposure to Elmiron, other common but less serious side effects have been identified. While not all of these unwanted side effects may occur, they may require medical attention if they do. 
The most common Elmiron side effects are:
Diarrhea

Stomach upset

Headache

Nausea

Rashes

Abdominal pains

Dizziness

Hair loss
Other notable side effects include abnormal liver tests indicating Elmiron-induced liver injury. Patients may also experience bleeding from the rectum and other unusual bleeding and bruising. 
Sources:
https://www.ic-network.com/qa-with-stacy-hauer-jd-on-elmiron-eye-disease-lawsuits/
https://www.orthoelmiron.com/patient/about-elmiron
https://www.ic-network.com/elmiron-label-has-been-changed-to-include-a-warning-about-eye-disease/
https://www.medbroadcast.com/drug/getdrug/elmiron
https://www.sciencedaily.com/releases/2019/10/191012141218.htm