Have Global cancer rates increased over the last decade?
According to a new study, published online in the journal JAMA Oncology, cancer rates have increased more than 33 percent in the last decade (2005-2015). The study attributes this mostly to population ageing and growth, along with changes in age-specific cancer rates.
In 2015, there were more than 17.5 million cancer diagnoses and 8.7 million deaths in the world as a result of cancers, according to the research statistics, making cancer the second leading cause of death globally. In 2015, it was also recorded that one in three men and one in four women, will contract cancer in their lifetime.
Prostate cancer is the most prevalent cancer in men, although not the leading cause of cancer death in men, deaths are mostly attributed to tracheal, bronchus and lung cancer. In women, breast cancer is the most common cancer diagnoses for women and is also the leading cause of cancer death in women.
Of all cancers, deaths between 2005 and 2015 decreased significantly for Hodgkin lymphoma (-6.1%). The number of deaths also decreased for esophageal cancer, stomach cancer, and chronic myeloid leukemia, although these result were not statistically significant according to the study.
One of the conclusions of the study is that cancer incidence is expected to increase in the future, further straining limited health care resources globally. The results of this study also suggest the need for cancer prevention efforts, including tobacco control, vaccination, and the promotion of physical activity and a healthy diet.
The following figures are the age specific global contributions of cancer types to total cancer incidence and mortality for both sexes, 2015. A – Cancer Incidence, B – Cancer Mortality.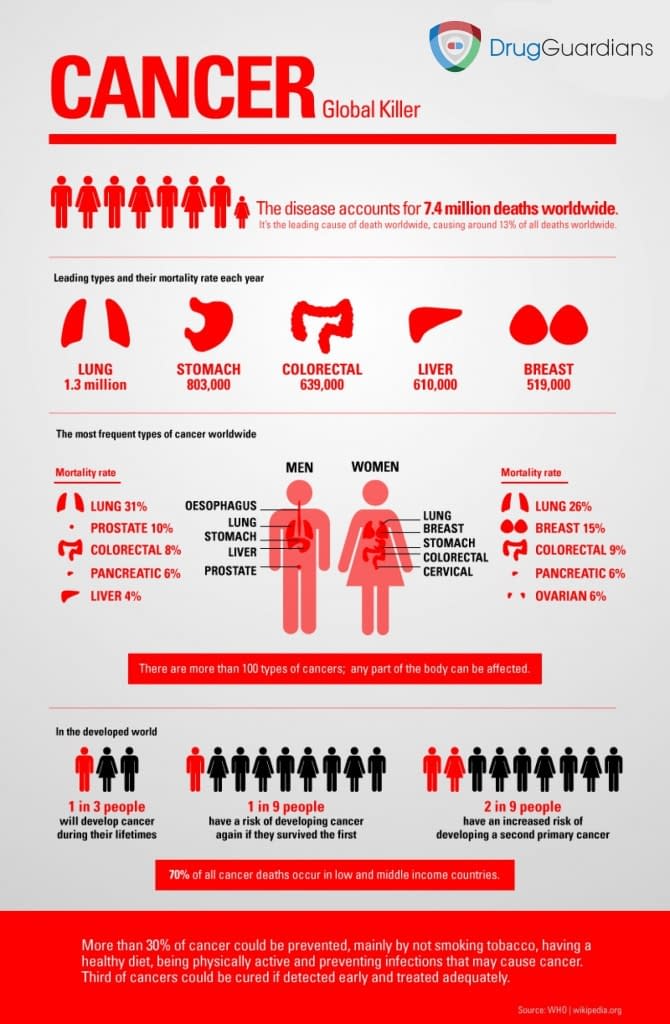 Sources:
http://jamanetwork.com/journals/jamaoncology/fullarticle/2588797